The International Summer Camp of Saario Academy will be held in Budapest /Hungary/ between 24th-26th of July.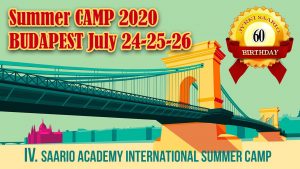 Training leaders:
Jyrki Saario – Saario Academy Head Instructor
Istvan Nagy – Polish Lead Instructor, International instructor
László Tóth – Hungarian Lead Instructor, International instructor
3 days, 10 hours of trainings for Students & 10 hours for Instructors!
• Self Defence training
• Tactical training
• Ironman Ground Fighting
• Ironman Stand-Up Fighting
• Knife Fighting
Location:
? Budapest, SA Gym (Budapest, District XIII., Viktor Hugo street 6.)
Date: 24th-26th of July 2020
Participate: everyone (regardless of martial arts skills)
Equipment: personal protective gear, boxing gloves, outdoor and indoor training suits.
Training fee: Saario Academy members 120 Euro; Not SA Members 150 Euro
Travel, accommodation, meals and insurance are NOT included in the training fee.
Pre-registration and advance payment is required for organizing programs and travel!
Further information and registration: jelentkezes@sagym.hu
Deadline for apply: June 20
Program Plan:
Day 1 – 24th July, Friday – Budapest
Students: 17:00-18:00; 18:05-19:00
Instructors: 19:05-20:00; 20:05-21:00
Day 2 – 25th July, Saturday – Budapest
Students: 10:00-11:00; 11:05-12:00; 12:05-13:00; 13.05:14:00
Instructors: 15:00-16:00; 16:05-17:00; 17:05-18.00, 18:05-19:00
Evening: Jyrki's Saario Birthday Party
Day 3 – 26th July, Sunday – Budapest
Students & Instructors: 11:00-12:00, 12:05-13:00, 13:05-14:00, 14:05-15:00
Training on Margaret Island.
________________________________________
After the trainings it is possible to take part in optional programs in Budapest (sightseeing, discovering night life, etc.), the cost varies by program 🙂
In Hotel Szőnyi *** we can offer discounted accommodation to the camp participants (www.szonyihotel.hu). When booking, note the "kravmaga" password for validation of the discount.